Birthday Magic Show : 3-8yrs
" How To Give Your Child Memories Of A Birthday That Will Last A Lifetime"
Birthday Magic Show For Ages 3-8yrs

Group size: 5 to 20 kids

(If more than 20 adults present, please book the Family Magic Show)

For Birthday Party Ages: 9-14yrs Click here.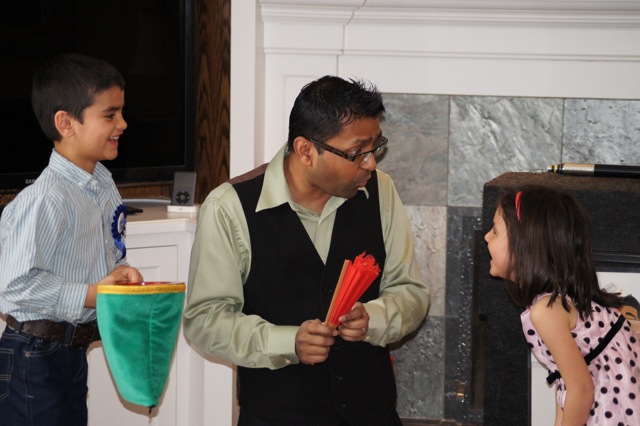 Your child has another birthday coming and you may not know how to make THIS birthday better and different from all the others. And your child deserves something special to make this a very special day.
Let me make it easy for you.
After 20 years of performing for children, I have put together a Birthday Party Package that is the best present you could ever give your child.
And here's what's in it:
First, you get a 40 minute Magic Show with full audience participation … lots of comedy and fun … and special attention highlighting your birthday child.
After the show, I get everybody singing the" Happy Birthday Song", just for your child (you may choose to cut the cake at this point or after the show).
And … you also get Balloon animals for ALL the children to take home and kids love their balloon sculptures.
Plus … all the children get to take home a souvenir magic trick which they can have fun with and perform at home on their friends and family members (a reminder of the wonderful time they've had at your Birthday Party).
By the way, this Birthday Party Package is ideal for children from ages 3 to 8 and works best with groups of 20 or less. The total time for this "Ultimate Birthday Magic Package" runs close to 60 minutes (40 minutes of magic plus the time it takes to make balloon animals for every child).
To Check Availability & Pricing via Email, CLICK HERE or Call Now (416-770-3894) as Wij books on a first come, first serve basis and his availability time slots are limited.
Here Are What Other Moms & Dads have to say About My Show
Dear Wij, I have highly recommended you to others already! We were so impressed with your magic show for Zachary's 4th birthday. The kids thought you were hilarious – some of them were literally rolling on the floor laughing! The adults really enjoyed the show as well. We couldn't believe you held everyone's attention for the full 45 minutes. Zachary still talks about his great birthday party, and says he wants to have a magic show again at his next one! Thanks again, your show was really terrific. Best,  Jennifer Egsgard (response to my show from her son's 4th Birthday party)
Omg…where do I begin..having u perform at my grandsons first  b'day was a BLAST..I have never seen the kids so excited. Never mind the children.. I never seen so many adults with tears in their eyes dying of laughter all because of U..because u brought the children to a new height of laughter, enjoyment, excitement and curiosity. ..thank u so much…  
Your show was amazing.  To keep a group of 5 and 6 year-olds engaged and excited for the full show takes a great deal of skill.  The kids (and adults) smiled and laughed for the full hour and my son is still talking about the show weeks later.  We were really impressed how you catered the show to their ages and mindset, but kept it entertaining for all in the audience.  We would definitely recommend you to anyone. Asim R. (response to my show from son's 6th Birthday party)